"Glinda"- Wizard of Oz Series – OOAK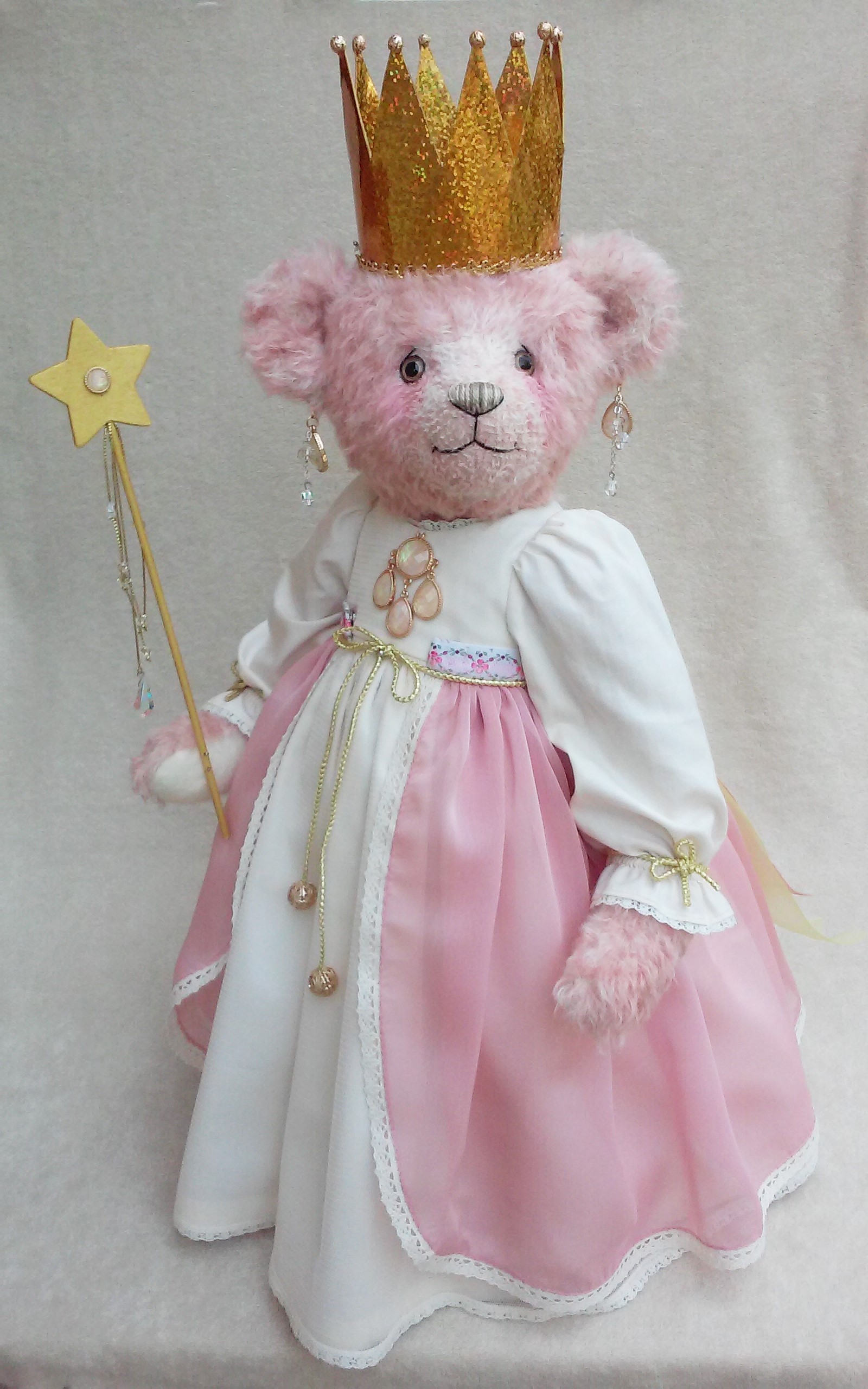 2015-16 "Zack"

"Zack" is a 17.5 inch bear made of Schulte fabric, silver grey mohair woven into a brown cotton backing. His face is set-in ivory mohair fabric. Five bolt/disc joints connect to lock-lined arms & legs for posing. He has a variegated pearl cotton nose, brown glass eyes, & needle sculpted leather pads. Wearing classy wool, suspendered shorts, this dashing fellow is a numbered/limited edition of 8, priced at $595.00

2016 "Yukie"

"Yukie" 17.5-inch bear is made of dense, curly gold Schulte fabric with a set-in face of ivory mohair fabric. Five bolt/disc joints connect to lock-lined arms & legs for posing. He has a variegated pearl-cotton nose, black glass eyes, & needle sculpted, embossed leather pads. He wears trendy, suspendered blue jean shorts, This handsome boy is a numbered/limited edition of 5 only, priced at $795.00.

2016 "Bubba"

Bubba is 20 inches of tipped scruffy, curly mohair with glass eyes, & leather footpads, He is fully jointed with bolt/locknut/disc joints attached to Loc-Line armature, using a bent-legged pattern that makes him great for posing. He is all 'chubbed-up' with a mixture of pellets and polyfiberfill stuffing.

This is one cute bear, a hug waiting to happen! First of two only, $595.00

"Little Walter"

Finally a "Little Walter" of your own. A portion of his adoption fee ($299.00) will go to Good Bears of the World who commissioned, and auctioned "Walter the Traveling Bear" in 2012. Little Walter is just 11 inches, fully jointed with felt pads, glass eyes and armature. This edition will be numbered & limited, available by ORDER ONLY until August 31st, 2016. At that time, orders will be closed & fulfilled in the months of September through December 2016.
---
Whistler's Mother Parody (Bear-ody)

This 24"X18" stretched canvas and is painted using acrylic colors, while incorporating the bear parts made of mohair fabric, into a low-relief or bas-relief picture. It appears to be a flat painting, however, note the picture showing the construction. The dress parts are also raised painted canvas, applied in layers using a quit-like appliqué technique. Detail lace and cap fabric are applied cotton fibers, with a glass eye and embroidered nose and mouth.



click to view construction timeline
"Somebody's Mother"
"Mother" is a full-body German mohair teddy. My 18-inch dolly-bear pattern is fully articulated with 5 cotter-pin joints, Loc Line in the arms/legs, and leather paw pads. She is wearing a simple cotton Quaker-style dress and looking very prim in her Dutch bonnet. She can stand and pose or be seated on her wooden chair with her feet resting on her little wooden stool as seen in the iconic picture painted by Whistler, in 1887. Who knows if that was really his mother but mine is definitely a Teddy bear parody. OOAK 2014 at $395.00 plus tax and shipping.
---
"Girl with Pearl Earring"
Painted acrylic on canvas with low relief mohair bear and applied detail. The 3 dimensional jointed mohair bear stands 18" tall and will be completed in 2016.